| English | العربية | کوردی | Français | Deutsch | Español |
We received and publish…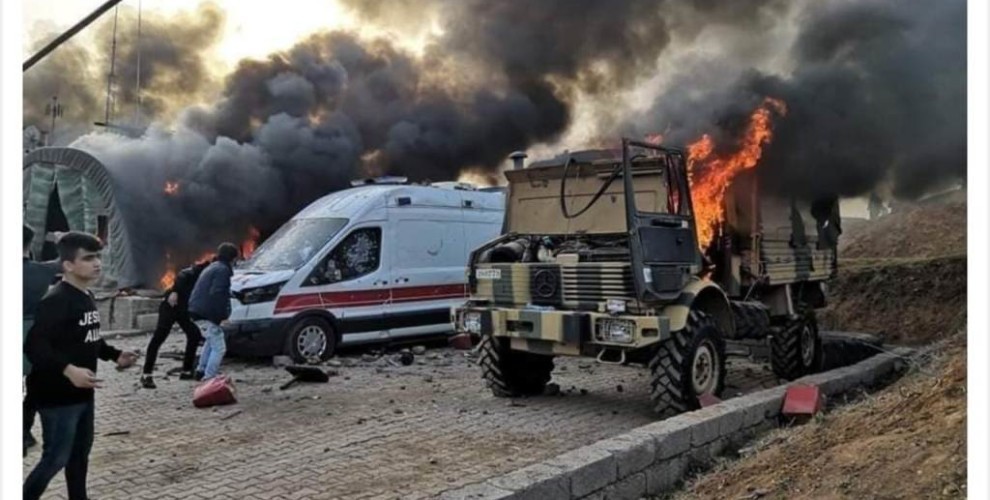 "From Baghdad to Beirut, we shall continue. No Sunni no Shia…"
The Iraqi government is made up of all bourgeois factions in Iraq, and it is accepted by regional forces and the world bourgeoisie, but the proletariat tried to bring it down…
The "Green Zone" in Baghdad is the centre of the world capitalism; the proletariat tried to occupy it and lost a lot of lives for it…
The port of Basra is a global corridor for oil exports and international trade and proletariat blocked it, and tried to control it.
The Iraqi police, security forces, special forces and military forces are forces of global capitalism (with the participation of Shia, Sunni, Christian, Kurdish, and Turkmen bourgeoisie, with a large numbers of regional and international forces, including troops of America and Europe, Turkey, Iran, etc.), but the proletariat attacked them, their centres and detachments in the streets, and as many as 650 proletarians have been killed by them and more than 20 thousand wounded (this is not to mention the number of abducted and imprisoned…).
The proletariat in all rebellious areas of Iraq burned down the headquarters of the political parties (religious and national without exception), they burned down the houses of members of parliament and State officials and they also attacked security and police stations, media, judicial institutions and the Ministry of Justice, newspapers and television stations… By doing this, the proletariat attacked the whole State.
According to the prime minister Adel Abd al-Mahdi, this movement destroyed the national economy (capitalism) in all its aspects.
The proletariat in its struggle attacked without exception everything, any symbol, any person, any base attached to the history of the authority and repression including military, diplomatic institutions, trade centres and secret services, internal as well as external. All the attacks on the repressive forces of Pasdaran in the city of Karbala are not really anti-Iranian as the media said, but it is a part of the class action against the repressive forces and centres in all their forms just like the attack on the Green Zone and the other places.
Isn't it clear from proletarian united action and its slogans: "Down with all the thieves", "From Baghdad to Beirut, we shall continue. No Sunni no Shia…", "No country, no work, we all stay in the street!", "No country, no work until the downfall of the system" – that the proletariat targets counterrevolution in its totality, just like it did in Basra in September 2018!?
The bourgeoisie has always tried to distort the class path of our revolutionary movement. They have resorted to various methods to empty the revolutionary content of our struggle; they create stories of conspiracy and call it names. All of this in order to cover up its bloody crackdown and the destruction of our revolutionary movement in bourgeois conflicts. The proletariat has risen up on a social level against all the exploiters and it intends to terminate the whole of their power.
The proletariat understands very much that external and internal capitalists (Shiites, Sunnis, Kurds, Christians, Jews…), the wealthiest from all over the world are part of the State and they are all united in exploiting the humanity, therefore, proletarian struggle is without a doubt a united struggle against all of them…
The militant proletariat does not allow anyone to represent it; it has no demands and it does not negotiate. It is not attached to any political programme… Isn't this rebellion a deep class struggle against the capitalist system in its entirety? The only programme of the proletariat is its determination to continue and direct the unified struggle against the dictatorship of Capital and State.
"We are against all of you, and we take everything." That's the autonomy of the class and the strength of the struggle of our movement… And therefore, it is not easy for the State to extinguish or to root out this movement.
The proletariat is not in a waiting situation or in a depressed mood… Since the beginning of the movement and until now, even with massive repression and murdering of the State, this movement continues and it is expanding the scope of its struggles and tactics day after day. For example, in Baghdad, the movement formed combat units and spread all around the city to interrupt the traffic, and take control of the bridges and important points. It set up its collective coordinating activities to extend and expand its struggle to plan the next day and the next target, it published leaflets about its struggle, and it treated injured comrades… all of this is the coordination, organization and expansion of their struggle capacity.
The proletarian struggles in the past always took energy from each other. That is how the struggle continues and exercises its class interests and internationalism as well. By breaking the geographical borders, ideological, economical and democratic frameworks and the national State… this movement targets the Capital and global capitalism. And today the exactly same struggle exists in reality.
The proletariat nowadays (from Haiti, France, Hong Kong, Egypt, Latin America, Lebanon to Iraq and Iran) is in the same struggle, we are fighting the same enemy, we have the same interests and the same hope: the overthrow of capitalism and the realization of community of human life without wage labour, exploitation, profit, Capital, work, pollution, injustice, wars and destruction.
This proletarian struggle is not an "anarchist" struggle, it is neither a "socialist" struggle, nor a struggle for the sake of democratic power, or the national State – it's a revolutionary, class and international struggle against the capitalist dictatorship over life (over the Earth)… It is a struggle to liberate life from all forms of human slavery…
If today young militants have come out on the street and they take a lead in the struggle and heavily participate in it, it is something natural!
Because this generation, while running daily from the catastrophe of capital, is dreaming of life. They are those who have no stability in life… what they have today may not last until tomorrow. What they feel was close to them today; tomorrow seems to be very far. The greed of capitalism, its wars, and its successive disasters left them in a constant struggle. This situation intensifies more and more at the global level and becomes a hell that pushes the proletariat into the struggle… Their struggle is a struggle of life against this capitalist hell. The proletarians in the struggle understand capitalism and its catastrophe and they feel alive and they are happy in their struggle for life.
The proletarian struggle is the struggle of the exploited class against the world capitalism. It is a struggle for life, against the exploitative and deadly relations of the global Capital.
The proletariat continues to struggle: from France to Lebanon, from Iraq to Chile, from Hong Kong to Iran… and calls upon all other neighbouring areas where it is possible to unite and to co-ordinate class action in this struggle against capitalism.
From our region the participation of the proletariat in Turkey, Israel and Iran… blocks the possibilities of the capitalist war and pushes our international class war towards a better perspective.
Down with exploitation and oppression… Down with war… Down with capitalism…
For the continuation of the class war all over the World
From the comrades of international struggle
Internationalist Proletarians
Middle East
November 2019
International and Class Communication: internationalist@riseup.net
| Français |
"De Bagdad à Beyrouth, nous allons continuer. Nous ne sommes ni sunnites, ni chiites…"
Le gouvernement irakien est composé de toutes les fractions bourgeoises en Irak, et il est accepté par les forces régionales et la bourgeoisie mondiale, mais le prolétariat a essayé de le faire tomber…
La « Zone Verte » de Bagdad est le centre du capitalisme mondial, le prolétariat a essayé de l'occuper et a perdu beaucoup de vies pour cela…
Le port de Bassora est un couloir mondial pour les exportations de pétrole et le commerce international et le prolétariat l'a bloqué, et il a essayé de le contrôler.
La police, les forces de sécurité, les forces spéciales et les forces militaires irakiennes sont celles du capitalisme mondial (avec la participation de la bourgeoisie chiite, sunnite, chrétienne, kurde, turkmène, avec un grand nombre de forces régionales et internationales, dont des troupes américaines et européennes, turques, iraniennes, etc.), mais le prolétariat les a attaquées, ainsi que ses centres et ses détachements dans les rues et jusqu'à 650 prolétaires ont été tués par elles et plus de 20 000 blessés (sans parler du nombre d'enlèvements et d'emprisonnements…).
Le prolétariat dans toutes les régions rebelles d'Irak a incendié les sièges des partis politiques (religieux et nationaux sans exception), ils ont incendié les maisons des membres du parlement et des fonctionnaires de l'Etat et attaqué également des postes de police et des forces de sécurité, les médias, les institutions judiciaires et le ministère de la Justice, les journaux et les chaînes de télévision… En agissant de la sorte, le prolétariat attaque l'Etat dans son ensemble.
Selon le Premier ministre Adil Abd al-Mahdi, ce mouvement a détruit l'économie nationale (le capitalisme) sous tous ses aspects.
Le prolétariat, dans sa lutte, a mené des attaques sans aucune exclusive, contre tous les symboles, toutes les personnes, toutes les bases, quelles qu'elles soient, attachées à l'histoire de l'autorité et de la répression, y compris les institutions militaires et diplomatiques, les centres commerciaux et les services secrets, tant internes qu'externes. Toutes les attaques contre les forces répressives des Pasdaran dans la ville de Karbala ne sont pas vraiment anti-iraniennes comme l'ont dit les médias, mais elles font partie de l'action de classe contre les forces répressives et leurs centres sous toutes leurs formes, tout comme l'attaque contre la Zone verte et d'autres endroits.
N'est-il pas clair d'après l'action unitaire prolétarienne et ses slogans : « A bas tous les voleurs », « De Bagdad à Beyrouth, nous allons continuer. Nous ne sommes ni sunnites, ni chiites… », « Pas de pays, pas de travail, nous restons tous dans la rue », « Pas de pays, pas de travail avant la chute du système » – que le prolétariat vise la contre-révolution dans sa totalité, tout comme il le fit à Bassora en septembre 2018 !?
La bourgeoisie a toujours essayé de déformer le terrain de classe de notre mouvement révolutionnaire. Ils ont eu recours à diverses méthodes pour vider le contenu révolutionnaire de notre lutte, ils ont construit des complots et nous traitent de tous les noms. Tout cela pour dissimuler la répression sanglante et la destruction de notre mouvement révolutionnaire dans des conflits bourgeois. Le prolétariat s'est soulevé sur le plan social contre tous les exploiteurs et il entend mettre fin à tout leur pouvoir.
Le prolétariat comprend très bien que les capitalistes extérieurs et intérieurs (chiites, sunnites, kurdes, chrétiens, juifs…), les plus riches du monde entier font partie de l'Etat et ils sont tous unis pour exploiter l'humanité, donc la lutte prolétarienne est sans aucun doute une lutte unie contre eux tous…
Le prolétariat militant ne permet à personne de le représenter, il n'a pas de revendications et ne négocie pas. Il n'est attaché à aucun programme politique… Cette rébellion n'est-elle pas une profonde lutte de classe contre le système capitaliste dans son ensemble ? Le seul programme du prolétariat, c'est sa détermination à poursuivre et à diriger la lutte unifiée contre la dictature du Capital et de l'Etat.
« Nous sommes contre vous tous, et nous prenons tout. » C'est l'autonomie de la classe et la force de la lutte de notre mouvement… Et donc, il n'est pas facile pour l'Etat d'éteindre ou d'éradiquer ce mouvement.
Le prolétariat n'est pas dans une situation d'attente ou de dépression… Depuis le début du mouvement et jusqu'à présent, même avec la répression massive et les assassinats de l'Etat contre lui, ce mouvement continue et il étend jour après jour la portée de ses luttes et de ses tactiques. Par exemple, à Bagdad, le mouvement a formé des unités de combat et s'est répandu dans toute la ville pour interrompre la circulation, et prendre le contrôle des ponts et des points importants. Il a mis en place ses activités collectives de coordination pour étendre et élargir sa lutte afin de planifier le lendemain et la cible suivante, il a publié des tracts sur sa lutte et il a soigné les camarades blessés… tout cela, c'est la coordination, l'organisation et l'expansion de leur capacité de lutte.
Les luttes prolétariennes du passé ont toujours pris leur énergie les unes des autres. C'est ainsi que la lutte continue et assume ses intérêts de classe et son internationalisme. En brisant les frontières géographiques, les cadres idéologiques, économiques et démocratiques ainsi que l'Etat national… ce mouvement cible le Capital et le capitalisme mondial. Et aujourd'hui, c'est exactement la même lutte qui existe dans la réalité.
Le prolétariat d'aujourd'hui (d'Haïti, de France, de Hong Kong, d'Egypte, d'Amérique latine, du Liban, d'Irak et d'Iran) est dans la même lutte, nous combattons le même ennemi, nous avons les mêmes intérêts et le même espoir : le renversement du capitalisme et la réalisation de la communauté de vie humaine sans travail salarié, exploitation, profit, Capital, travail, pollution, injustice, guerres et destruction.
Cette lutte prolétarienne n'est pas une lutte « anarchiste », ni une lutte « socialiste », ni une lutte pour le pouvoir démocratique, ni pour l'Etat national – c'est une lutte révolutionnaire, de classe et internationale contre la dictature capitaliste sur la vie (sur la Terre)… C'est une lutte pour libérer la vie de toute forme d'esclavage humain…
Si aujourd'hui de jeunes militants sont sortis dans la rue et qu'ils prennent l'initiative dans la lutte et y participent activement, c'est quelque chose de naturel !
Parce que cette génération, tout en fuyant quotidiennement la catastrophe du capital, rêve de la vie. Ce sont eux qui n'ont aucune stabilité dans la vie… Ce qu'ils ont aujourd'hui ne durera peut-être pas jusqu'à demain. Ce qu'ils ressentent était proche d'eux aujourd'hui, demain semble très lointain. L'avidité du capitalisme, ses guerres et ses catastrophes successives les ont laissés dans une lutte constante. Cette situation s'intensifie de plus en plus au niveau mondial et devient un enfer qui pousse le prolétariat dans la lutte… Leur lutte est une lutte de la vie contre cet enfer capitaliste. Les prolétaires dans la lutte comprennent le capitalisme et sa catastrophe et ils se sentent vivants et heureux dans leur lutte pour la vie.
La lutte prolétarienne est la lutte de la classe exploitée contre le capitalisme mondial. C'est une lutte pour la vie, contre l'exploitation et les rapports mortels du Capital mondial.
Le prolétariat continue à lutter : de la France au Liban, de l'Irak au Chili, de Hong Kong à l'Iran… et il fait appel à toutes les autres régions voisines où il est possible de s'unir et de coordonner des actions de classe dans cette lutte contre le capitalisme.
Dans notre région, la participation du prolétariat en Turquie, en Israël et en Iran… bloque les possibilités de la guerre capitaliste et pousse notre guerre de classe internationale vers une meilleure perspective.
À bas l'exploitation et l'oppression… À bas la guerre… À bas le capitalisme…
Pour la poursuite de la lutte des classes dans le monde entier
Des camarades de la lutte internationale
Prolétaires internationalistes
Moyen-Orient
Novembre 2019
Communication internationale et camarade : internationalist@riseup.net
| Deutsch |
"Von Bagdad bis Beirut, wir werden weitermachen. Weder Sunni noch Schia!"
Die irakische Regierung besteht aus allen bürgerlichen Fraktionen Iraks und wird von den Regionalmächten und der globalen Bourgeoisie akzeptiert, doch das Proletariat hat versucht, sie zu stürzen.
Die "Grüne Zone" in Bagdad ist das Zentrum des globalen Kapitalismus, das Proletariat hat versucht, sie zu besetzen, und dafür viele Leben verloren.
Der Hafen von Basra ist ein globaler Korridor für Ölexporte und den internationalen Handel, das Proletariat hat ihn blockiert und versucht, ihn zu kontrollieren.
Die irakische Polizei, die Sicherheitskräfte, die Spezialkräfte und das Militär sind Organe des globalen Kapitalismus (mit der Beteiligung der schiitischen, sunnitischen, christlichen, kurdischen und turkmenischen Bourgeoisie, mit einer grossen Anzahl regionaler und internationaler Kräfte, z.B. amerikanische und europäische, türkische, iranische Truppen und viele mehr), doch das Proletariat hat sie angegriffen, genau wie ihre Zentren und ihre Kommandos in den Strassen und bis zu 650 Proletarier sind erschossen und über 20'000 verletzt worden (ohne von der Anzahl Entführungen und Gefängnisstrafen zu sprechen).
Das Proletariat in allen rebellischen Regionen Iraks hat die Sitze aller politischen Parteien (religiös und national, ohne Ausnahme) und Häuser von Parlamentsmitgliedern und Staatsfunktionären niedergebrannt, sowie Polizeiposten und Sicherheitskräfte, die Medien, die Institutionen und das Ministerium der Justiz, die Zeitungen und die Fernsehsender angegriffen. Indem es so handelt, greift das Proletariat den Staat in seiner Gesamtheit an.
Gemäss dem Premierminister Adil Abd al-Mahdi hat diese Bewegung die nationale Ökonomie (den Kapitalismus) in jeglicher Hinsicht zerstört.
Die Angriffe des Proletariats in seinem Kampf waren alles andere als exklusiv, sie waren gegen alle Symbole, alle Personen, alle möglichen Grundlagen, verbunden mit der Geschichte der Autorität und der Repression, gerichtet, auch gegen die militärischen und diplomatischen Institutionen, die Supermärkte und die Geheimdienste, sowohl in- als auch ausländisch. All die Angriffe gegen die repressiven Kräfte der Pasdaran in der Stadt Kerbala sind nicht wirklich anti-iranisch, wie es die Medien behauptet haben, sondern sie sind Teil einer Aktion der Klasse gegen die repressiven Kräfte und ihre Zentren in all ihren Formen, genau wie die Angriffe gegen die Grüne Zone und andere Orte.
Ist das nicht klar, wenn man sich die einheitliche proletarische Aktion und ihre Parolen veranschaulicht: "Nieder mit allen Dieben", "Von Bagdad bis Beirut, wir werden weitermachen. Weder Sunni noch Schia", "Keine Heimat, keine Arbeit, wir bleiben alle auf der Strasse", "Keine Heimat, keine Arbeit vor dem Sturz des Systems". Das Proletariat hat es auf die Konterrevolution in ihrer Totalität abgesehen, genau wie in Basra im September 2018.
Die Bourgeoisie hat immer versucht, das Klassenterrain unserer revolutionären Bewegung zu deformieren. Sie haben verschiedene Methoden benutzt, um unserem Kampf jeglichen revolutionären Inhalt zu entziehen, sie erfinden Verschwörungstheorien und beschimpfen uns. All das, um die blutige Repression und die Zerstörung unserer revolutionären Bewegung hinter bürgerlichen Konflikten zu verstecken. Das Proletariat hat sich in sozialer Hinsicht gegen alle Ausbeuter erhoben und will sie all ihrer Macht berauben.
Das Proletariat versteht sehr wohl, dass sowohl die aus- als auch die inländischen der weltweit reichsten Kapitalisten (schiitisch, sunnitisch, kurdisch, christlich, jüdisch usw.) Teil des Staates sind und sie sind alle vereint zur Ausbeutung der Menschheit, darum muss der proletarische Kampf ein vereinter Kampf gegen sie alle sein.
Das kämpfende Proletariat erlaubt niemandem, es zu repräsentieren, es hat keine Forderungen und verhandelt nicht. Es hat überhaupt kein politisches Programm. Ist diese Rebellion nicht zutiefst ein Kampf der Klasse gegen das kapitalistische System in seiner Gesamtheit? Das einzige Programm des Proletariats ist seine Entschlossenheit, den vereinten Kampf gegen die Diktatur des Kapitals und des Staates weiterzuführen.
"Wir sind gegen euch alle und wir werden euch alles wegnehmen", es ist die Autonomie der Klasse und die Stärke im Kampf unserer Bewegung. Deshalb ist es nicht einfach für den Staat, diese Bewegung zu beruhigen oder zu vernichten.
Das Proletariat ist nicht in einer Situation des Wartens oder der Depression. Seit dem Beginn der Bewegung und bis jetzt geht diese Bewegung weiter, trotz der massiven Repression und den staatlichen Morden gegen sie, und sie weitet die Tragweiten ihrer Kämpfe und ihrer Taktiken Tag für Tag aus. In Bagdad hat die Bewegung z.B. Kampfeinheiten gebildet und hat sich in sich in der ganzen Stadt verbreitet, um den Verkehr zu unterbrechen und die Kontrolle über die Brücken und die wichtigen Punkte zu übernehmen. Sie hat kollektive Koordinationstätigkeiten aufgebaut, um ihren Kampf auszuweiten und zu verbreitern, um den nächsten Tag und die nächsten Ziele zu planen, sie hat Flugblätter über ihren Kampf veröffentlicht und die verletzten Genossen gepflegt, all das ist die Koordination, die Organisation und die Ausweitung ihrer Kampfbereitschaft.
Die proletarischen Kämpfe der Vergangenheit haben stets einander Kraft gegeben. Genau so geht der Kampf weiter und steht zu seinen Klasseninteressen und seinem Internationalismus. Indem sie die geographischen Grenzen, den ideologischen, wirtschaftlichen und demokratischen Rahmen sowie den Nationalstaat zerschlägt, richtet sich diese Bewegung gegen das Kapital und den globalen Kapitalismus. Und heute existiert genau der gleiche Kampf in der Realität.
Das heutige Proletariat (in Haiti, Frankreich, Hongkong, Ägypten, Lateinamerika, im Libanon, im Irak und im Iran) befindet sich im gleichen Kampf, wir kämpfen gegen den gleichen Feind, wir haben die gleichen Interessen und die gleiche Hoffnung: der Sturz des Kapitalismus und die Verwirklichung der Gemeinschaft des menschlichen Lebens ohne Lohnarbeit, Ausbeutung, Profit, Kapital, Arbeit, Verschmutzung, Ungerechtigkeit, Kriege und Zerstörung.
Dieser proletarische Kampf ist weder ein "anarchistischer" noch ein "sozialistischer" Kampf, auch kein Kampf für die demokratische Macht oder die Kontrolle des Nationalstaates – es ist ein revolutionärer und internationaler Kampf der Klasse gegen die kapitalistische Diktatur über das Leben (und die Erde). Es ist ein Kampf, um das Leben von jeglicher Form menschlicher Sklaverei zu befreien.
Wenn heute junge Aktivisten auf die Strasse gehen, die Initiative übernehmen im Kampf und sich daran aktiv beteiligen, so ist das etwas natürliches!
Denn diese Generation, obwohl sie täglich vor der Katastrophe des Kapitals flüchtet, träumt vom Leben. Sie sind es, die nicht die geringste Stabilität im Leben haben. Was sie heute haben, wird vielleicht nicht bis morgen andauern. Was ihnen heute als nah erscheint, scheint morgen sehr weit weg zu sein. Die Habgier des Kapitalismus, seine Kriege und sukzessiven Katastrophen liessen ihnen keine andere Wahl als den konstanten Kampf. Diese Situation intensiviert sich immer mehr auf globaler Ebene und wird zu einer Hölle, welche das Proletariat in den Kampf drängt. Ihr Kampf ist ein Kampf des Lebens gegen diese kapitalistische Hölle. Die Proletarier im Kampf verstehen den Kapitalismus und seine Katastrophe und sie fühlen sich lebendig und glücklich in ihrem Kampf für das Leben.
Der proletarische Kampf ist der Kampf der ausgebeuteten Klasse gegen den globalen Kapitalismus. Es ist ein Kampf für das Leben, gegen die Ausbeutung und die tödlichen Verhältnisse des globalen Kapitals.
Das Proletariat kämpft weiter: in Frankreich und im Libanon, im Irak und in Chile, in Hongkong und im Iran und es appelliert an alle anderen anliegenden Regionen, wo es möglich ist, sich zu vereinigen und Aktionen der Klasse in diesem Kampf gegen den Kapitalismus zu koordinieren.
In unserer Region blockiert die Beteiligung des Proletariats in der Türkei, in Israel und im Iran die Möglichkeiten des kapitalistischen Krieges und gibt unserem internationalen Klassenkrieg eine bessere Perspektive.
Nieder mit der Ausbeutung und der Unterdrückung! Nieder mit dem Krieg! Nieder mit dem Kapitalismus!
Auf dass der Klassenkampf in der gesamten Welt weitergehen möge!
Genossen des internationalen Kampfes
Internationalistische Proletarier
Mittlerer Osten
November 2019
Internationale Kommunikation unter Genossen: internationalist [at] riseup.net
Quelle: https://www.kommunisierung.net/Von-Bagdad-bis-Beirut-wir-werden/
| Español |
"Desde Bagdad hasta Beirut, debemos continuar. Ni suníes ni chiíes"
El gobierno iraquí que se compone de todas las facciones burguesas en Irak, es aclamado por las fuerzas regionales y por la burguesía mundial, pero el proletariado ha intentado derrumbarlo…
La "Zona Verde" en Bagdad es el centro del capitalismo mundial; el proletariado trató de ocupar este y se perdieron bastantes vidas debido a ello…
El puerto de Basra es el corredor global para las exportaciones de crudo y el mercado internacional, el proletariado lo bloqueó y tomó control del mismo.
La policía iraquí, las fuerzas de seguridad, especiales y militares son fuerzas del capitalismo mundial (con participación de chiíes, suníes, cristianos, kurdos y la burguesía turca, con un amplio número de fuerzas regionales e internacionales, incluyendo tropas de Estados Unidos, Europa, Turquía, Irán, etc.), pero el proletariado los atacó junto con sus centros y destacamentos en las calles, tantos como unos 650 proletarios han sido asesinados por ellos y más de 20,000 heridos (sin mencionar el numero de secuestrados y encarcelados…).
El proletariado en todas las áreas rebeldes de Irak incendió las sedes de los partidos políticos (religiosos y nacionales sin excepción), incendiaron las casas de los miembros del parlamento, funcionarios del Estado, también atacaron las estaciones de seguridad y de la policía, medios, instituciones judiciales, el Ministerio de Justicia, periódicos y estaciones de televisión. Al hacer esto, el proletariado atacó todo el Estado.
De acuerdo con el primer ministro Adel Abd Al-Mahdi, este movimiento destruyó la economía nacional (capitalista) en todos sus aspectos.
El proletariado en esta lucha atacó sin excepción todo, cualquier símbolo, cualquier persona, cualquier base adjunta con la historia de la autoridad y represión, incluyendo militares, instituciones diplomáticas, centros comerciales y servicios secretos, tanto internos como externos. Todos los ataques sobre las fuerzas represivas de Pasdaran en la ciudad de Karbala, no son realmente anti-iraníes como los medios dicen, pero eso es solo una parte de la acción de clase contra las fuerzas represivas y centros en todas sus formas, tan solo como el ataque en la "Zona Verde" y otros lugares.
¿No está del todo claro de la acción proletaria unida y sus eslóganes: "Abajo todos los ladrones", "Desde Bagdad hasta Beirut, nosotros debemos continuar. Ni suníes ni chiitas…", "¡Ni patria ni trabajo, todos estamos en las calles!", "¡Ni patria ni trabajo, hasta derrumbar este sistema!" – que el proletariado apunta a la contrarrevolución en su totalidad, tal como lo hizo en Basra durante septiembre del 2018?
La burguesía siempre ha tratado de distorsionar del camino hacia un movimiento revolucionario de nuestra clase. Han recurrido a varios métodos para vaciar el contenido revolucionario de nuestra lucha, crean historias de conspiración y le ponen nombres. Todo esto para cubrir su represión sangrienta y la destrucción del movimiento revolucionario mediante conflictos burgueses. El proletariado se ha elevado a un nivel social contra los explotadores y tiene las intenciones de terminar con todo su poder.
El proletariado es consciente de que los capitalistas internos y externos (chiitas, suníes, kurdos, cristianos, judíos…), los más ricos de todo el mundo, forman parte del Estado y todos ellos están unidos para explotar a la humanidad, sin embargo, el proletariado sin duda alguna lucha contra todos ellos.
Los militantes proletarios no permiten que nadie los represente; estos no tienen demandas ni nada que negociar. Estos no forman parte de ningún programa político. ¿No es acaso esta rebelión una profunda lucha de clases contra el sistema capitalista en su totalidad? El único programa del proletariado es la determinación de continuar directa y unificadamente luchando contra la dictadura del Estado-Capital.
"Estamos en contra de todos ustedes y lo tomaremos todo." Esa es la autonomía de la clase y la fuerza de la lucha de nuestro movimiento. Por lo tanto, no es fácil para el Estado erradicar el mismo.
El proletariado no está en una situación de espera o en un modo deprimido…
Desde el comienzo de este movimiento y hasta ahora, incluso con la represión masiva y asesinatos por parte del Estado, este movimiento continúa y está expandiéndose al alcance de sus luchas y tácticas día tras día. Por ejemplo, en Bagdad el movimiento formó unidades de combate difundidas por toda la ciudad para interrumpir el tránsito y tomar el control de puentes o puntos importantes.
Estableció su coordinación de actividades de forma colectiva para extender y expandir su lucha y planificar el día siguiente, el siguiente objetivo, publicó panfletos acerca de su lucha y cuidaron de los camaradas heridos. Todo esto es resultado de la coordinación, organización y expansión de su capacidad de lucha.
Las luchas proletarias del pasado siempre tomaron energías unas de otras. Así es como la lucha continúa y se ejercitan los intereses e internacionalismo de clase. Rompiendo las fronteras geográficas, ideológicas, económicas, democráticas y el Estado nacional. Este movimiento apunta contra el capital y el capitalismo mundial.
Hoy exactamente existe realmente la misma lucha. El proletariado hoy en día (desde Haití, Francia, Hong Kong, Egipto, América Latina, Líbano hasta Irak e Irán) está bajo los mismos intereses y deseos: la caída del capitalismo y la realización en vida de la comunidad humana, sin trabajo asalariado, explotación, lucro, capital, contaminación, injusticia, guerra y destrucción.
Esta lucha proletaria no es una lucha "anarquista", tampoco lo es una lucha "socialista" ni en aras de tomar el poder político o el Estado nacional, esto es una revolución, la lucha de clases internacional contra la dictadura capitalista sobre la vida (sobre la Tierra). Es una lucha para liberar la vida de todas las formas de esclavitud humana.
Si hoy jóvenes militantes han salido a las calles y tomado el control de la lucha participando en ella, ¡Es algo completamente natural!
Porque esta generación, mientras se ejecuta diariamente desde la catástrofe del capital, sueña con la vida. Son aquellos quienes no tienen estabilidad en la vida… lo que ellos tienen hoy quizá no lo tengan mañana. Lo que sienten cerca hoy, mañana podría estar lejos. La codicia del capitalismo, sus guerras y sus desastres sucesivos los han dejado en una lucha constante. Esta situación se intensifica más y más a nivel global y se convierte en infierno que empuja al proletariado dentro de la lucha… Su lucha es la lucha por la vida contra el infierno capitalista. Los proletarios en la lucha comprenden el capitalismo y su catástrofe, se sienten vivos y felices en la lucha por la vida.
La lucha proletaria es la lucha de la case explotada contra el mundo capitalista. Es una lucha por la vida contra las relaciones de explotación y muerte del capital mundial.
El proletariado continúa luchando: desde Francia hasta Líbano, desde Irak hasta Chile, desde Hong Kong hasta Irán… y llama al levantamiento de todas las áreas vecinas donde es posible la unidad y coordinación de acciones de clase en esta lucha contra el capitalismo.
Desde nuestra región la participación del proletariado en Turquía, Israel e Irán… bloquea las posibilidades de la guerra capitalista y empuja nuestra guerra de clases internacional hacia una mejor perspectiva.
¡Abajo con la explotación y opresión!
¡Abajo la guerra!
¡Abajo el capitalismo!
¡Por la continuidad de la guerra de clases en todo el mundo!
¡Por los camaradas de la lucha internacional!
Proletarios internacionalistas
Medio Oriente, Noviembre del 2019
Comunicación Internacional y de Clase: internationalist@riseup.net
Fuente: https://www.facebook.com/Difusión-Comunista-Anárquica-598850430528182/