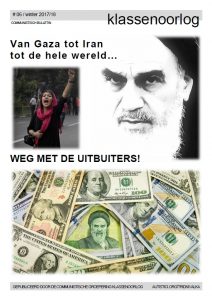 | Čeština | English | Français | Español | Nederlands | PDF |
"De geschiedenis van alle tot nu toe bestaande samenlevingen is de geschiedenis van de klassenstrijd."[1]
Sinds de onderdrukking en inkapseling van de laatste wereldwijde revolutionaire poging in de jaren '60 en '70 van de vorige eeuw, is de ideologische overheersing van de bourgeoisie bijna totaal in het grootste deel van de wereld: het niveau van de georganiseerde klasse-activiteit is zeer laag en de dagelijkse expressie ervan is beperkt tot daden van individuele subversie of in het beste geval tot plaatselijke en tot een bedrijfstak beperkte stakingen en rellen. In deze tekst willen we de aandacht vestigen op gebeurtenissen die veel verder gaan dan dat, de gebeurtenissen die Iran de afgelopen weken hebben geschokt. En dit in de context van een regio die, consequent en voor lange tijd op de voorgrond van de mondiale klassestrijd staat, ondanks (en tegen) een enorme concentratie van kapitalistische moordpotentieel dat daar wordt losgelaten. We willen het klassekarakter van deze strijd en het belang van de breuk met de kapitalistische orde benadrukken die onze kameraden in Iran voltrekken!
Terwijl het grote imperialistische conflict, dat de mondiale en regionale grootmachten in Irak en Syrië[2] al enkele jaren via hun lokale tussenpersonen uitvechten momenteel tijdelijk tot stilstand komt, terwijl de burgerlijke groepen en de legers en milities die hun belangen dienen, hun wonden likken, en zich voorbereiden en bewapenen voor de volgende ronde van de slachtpartij van het proletarische kanonnenvoer, terwijl hun politici en media dit voorstellen als overwinning, om het te laten slikken door "hun burgers", en om de ketenen die onze klasse aan het democratische spektakel binden te verstevigen, begint het proletariaat in de regio zijn kop weer op te steken.
In december waren aan de andere kant van de grens, in Iraakse Koerdistan, duizenden boze proletariërs de straat op gegaan en kwamen in botsing met politie-agenten en Pesjmerga-Eenheden. In de provincie Sulaymaniyah staken demonstranten het hoofdkwartier van Pesjmerga en dat van de belangrijkste politieke partijen (zowel van de regering als van de oppositie) in brand.[3] Ook in de stad Koye in de provincie Erbil werden partijkantoren in brand gestoken. De directe aanleiding voor hun woede was de rampzalige toestand van de basisvoorzieningen, zoals onderbroken of ontoereikende aanvoer van schoon water en elektriciteit, en enkele maanden van niet-uitbetaalde lonen, vooral in de publieke sector. Tijdens de rellen werden minstens vijf van de demonstranten vermoord door de repressiekrachten van de staat en honderden raakten gewond of werden gearresteerd.[4]
Op 28 december waren in Mashhad en in Noord-Iran hongeroproeren en protesten uitgebroken tegen de hoge kosten van levensonderhoud. Later zullen deze uitgroeien tot de grootste golf van klassestrijd in Iran sinds de beweging van 2009.