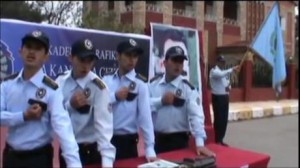 | Čeština | English | Français |
We publish here a new contribution from the militant(s) known as "Anti war" whose previous article (entitled "I have seen the future and it works." – Critical questions for supporters of the Rojava revolution) has already been published on our blog.
Once again this contribution emphasizes the denunciation of idolaters who mistake social revolution, destruction of private property and economy, anti-capitalist and anti-state struggle (even at a minority and embryonic level) on one hand, and on the other the bunch of Social Democrats, reformers of the old world who repaint in red (and black) the vile and revolting exploitation of our class and who pretend thus to act as revolutionaries whereas they are only emptying our struggle of its subversive substance in order to better take over leadership of it.
To this end the author(s) quote(s) in extenso an article written by an anarchist "living in Rojava" published on a blog that doesn't make big mystery out of its entire and wholehearted adhesion to the political forces that contain the struggles in this region. It's a bit a "reductio ad absurdum" about the unconditional support given by some sectors of "anarchism" (and we even do not talk here about other expressions of leftism like all the Marxist-Leninist chapels that stand on the same position) to groups, organizations, structures they brazenly and falsely present as being anti-state and anti-capitalist…
As for us we continue to denounce the charlatans of class struggle and their countless impostures. In the same time we address all our militant solidarity to proletarians in struggle against the current, in Rojava particularly, in Kurdistan and in Middle East generally, and everywhere else in this disgusting world of exploitation. We wish also to develop the communist critique together with them. Because we know that behind sociological analyses and political labels our enemies are sticking on our struggles, it's still and ever class struggle, class war that is materializing.
Indeed struggles of the exploited were historically, still are nowadays and will continue to be easily labelled as being "national liberation struggles" not on basis of the deep breeding ground that nourishes them (the struggle against misery and exploitation, against repression), but rather on basis of capacity of certain bourgeois factions to exploit for their own ends, to contain the weaknesses and the lack of perspective of these struggles, as well as their isolation, in order to bring them back in the framework of a reform of the mode of production and exploitation, through here for example "the liberation of the people and the nation".
History will judge, history already judged…
Class War # August 2015 Continue reading →