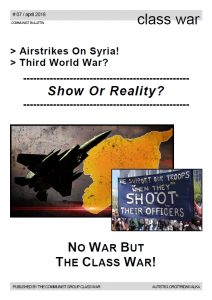 | Čeština | English | Français | Español | PDF |
On April 14th, 2018, the big bourgeois media (which express and materialize the class interests of our exploiters and oppressors, all factions taken into account despite the conjuncture divergences that differentiate them from each other) announced to us with great blows of war propaganda that a coalition of three among the world's largest powers (the US, Britain and France) have conducted night airstrikes on various "strategic" targets in Syria, in retaliation for the chemical attack allegedly perpetrated by the Baathist regime, supported militarily, economically, politically and diplomatically by Russia and Iran. It is quite"comical" and "outrageous" that these capitalist gangsters put forward the defence of "civilian populations", victims of the morbid logic that leads this world, especially when we know very well that for example the US have the most powerful military-industrial complex of the planet, as well as the most gigantic reserves of weapons of mass destruction. The US have in recent years not only contaminated whole regions of the former Yugoslavia and Iraq with widespread use of "depleted uranium" ammunition, causing a drastic increase in the number of cancers for local populations, but they also sacrificed their own soldiers exposed to the devastating effects of such weapons.
Once again, on that occasion, the spectre of a third world war was brandished in front of the astonished eyes of billions of proletarians, by putting forward the possibility of a US-Russian military conflagration. It seems obvious to all healthy and somewhat critical minds that the official version to be used as a justification for these airstrikes does not hold water and is meaningless. Neither American, British and French capitalists nor the Russian, Syrian or Iranian capitalists certainly give a damn about the fate of proletarians crushed under floods of bombs, missiles, bullets, gas and others merry gimmicks produced by the capitalist Eden. The fundamental reason for all this performance is the ideological, psychological preparation of the masses of proletarians atomized in their condition of citizens to the future and inevitable reality of generalized war.