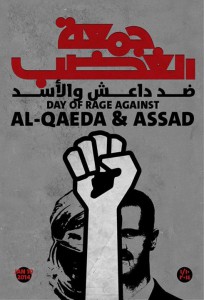 Printable version
Since nearly three years that an uprising broke out in Syria (as a local materialization of the upheavals shaking the whole regions of Maghreb and Mashreq) most of the reactions, comments and critics from militant structures which claim to be revolutionary, internationalist, communist, anarchist… go in the same direction: doubts about what happens, doubts about essential material determinations that give birth to the movements that develop in front of our eyes, doubts about the class nature of these events, doubts about the potentially subversive content of struggles of our class when it doesn't wave the "good" flags, etc.
Those doubts have been strengthened since the conflict turned into "militarization of the revolution" (as many say) and hijacking of our movement by "opposition democratic forces" and several trends of jihadists, Salafis and other Islamists. But as a militant from Palestine expressed:
"So yes, the Syrian Revolution was indeed hijacked, and we know that there are many Salafis, many jihadists and many other groups, and many pro-America and pro-imperialist groups that tried to hijack the Syrian Revolution. But that does not by any means tarnish the Syrian Revolution, and it also doesn't mean that just because a revolutionary movement was hijacked that we should stand on the sidelines and stop supporting it. Of course there are still so many revolutionaries working on the ground [...] and there are even many non-sectarian armed brigades that we cannot ignore. If the revolution was hijacked we don't just go and start blaming the people for it being hijacked. We actually do everything to side with the people in order to get the revolution back on the right track. And this is what many leftists couldn't understand."[1]
No revolution in class struggles' turbulent and violent history ever started with "the good flag", with "the correct mottos", with a preestablished and clear "consciousness" of goals and perspectives. All the practical and programmatic advances were built up in painful confrontation with the counterrevolution organized as a strong force.
As we already touched on in our previous leaflets about the struggles in Syria[2], as soon as the government forces are driven away from a city or a region, as capitalism loathes vacuum, new forces, new parties and unions settle to manage the situation and to avoid that it goes off a strict reformist framework. Among these institutions we firstly find various Islamist groups which take in charge the repression against militant structures set up by the movement of struggle. Checks in the streets, arrests, imprisonments, tortures and summary executions of militants, severe sentences by "Islamic courts", implementation of Sharia law, repression of daily demonstrations against these "new masters"; since Spring 2013 proletarians living in "liberated areas" have been pointing the finger at these Islamist enemies and denounce them just as badly off as the thugs of Baath regime. Among these jihadist groups one of the most virulent and hated by the whole population is the group which claims to be the "Islamic State of Iraq and Sham" (ISIS) affiliated to the international network Al-Qaeda. Continue reading →