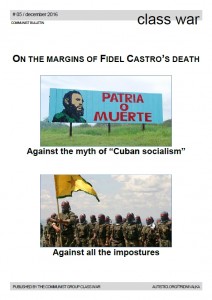 | Čeština | English | Français |
The Cuban national television has just announced this November 26th, 2016 the death of Fidel Castro, who died at the "venerable" age of 90. This counterrevolutionary old fogey will be celebrated in Cuba, where nine days of national mourning is declared, as well as all over the world by the bourgeois international left (i.e. the left and far left bourgeoisie).
We add here our small contribution to the communist critique while publishing a text (that we also translated in English and in Czech) issued in the years 1990 in the central review of the Internationalist Communist Group (ICG) that denounces the eminently counterrevolutionary nature and character of the Cuban "Communist" Party, the "barbudos" and its "Lider Maximo": Fidel Castro…
We insist at the same time on reaffirming that there has never been any "communist country" in the world and in history. The USSR as well as its satellites of Eastern Europe, China or Vietnam, Albania or Nicaragua, North Korea or Kampuchea, and even nowadays Venezuela, Bolivia, Ecuador and Rojava, were nothing else and even at the beginning of this 21st century they are but a representation of the gross myth of "socialism in one country", dear to Marxists-Leninists and Stalinists of all kinds. All of them are capitalist from beginning to the end! Because where there's wage labour, there inevitably exists also Capital and it can't be otherwise just because there's also a "Marxist" ideology's garb, re-organisation of the bourgeoisie through a political party and state and its efforts (with no lasting chance to succeed) to deform capitalist laws of market, competition and value.