CREEDISH PLAIN TERROR
It has been recently uncovered that suspected terrorist, Osama bin Laden, was trained in the US. An un-named informant admitted that the Creedish had recruited and trained Bin Laden because they liked his "bitchin beard". But when bin Laden refused to shave off his mustache, they had a falling out. The Creedish have allowed UN troops to train on their "Farm Bases", but this is the first time that a report of a suspected terrorist being trained by them. As usual when questioned about the report, the Creedish would not comment or even allow themselves to be photographed.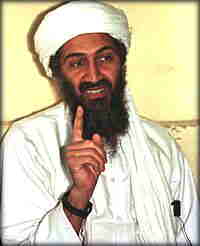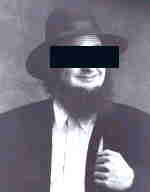 Seen above left: Osama bin Laden was quoted as saying "They wanted me to get up at 4:00 AM, and milk cows and chop wood and plow an acre before breakfast. Then they wanted me to shave off my mustache. I said, The hell with that, and left." Bin Laden refused further interview stating that he had "20 nuclear bomb backpacks to get together". "These things don't pack themselves, you know" Bin Laden said. Above right an un-named source that refused to be interviewed out of fear of retaliation by the Creedish.
OSAMA BIN LADEN FOUND HIDING IN U.S.!
---