News
26 Apr 08:
GNOME Mastermind 0.3.1 Bugfix Release!
Hey it's been a while since I last posted something here (ehm.. it's been a while since I last made a svn commit too :P). It turns out that gnome-mastermind has an annoying bug with recent distros. So
here
is a bugfix release ;).
This fixes grid drawing with both recent and old versions of cairo, I've tried my best to make gnome-mastermind look the same in both but there was an isssue with line rendering in pre-1.5.8 cairo that now has been fixed so I gave priority to most recent cairo. This unfortunately causes pegs to be placed half-pixel uncentered to the right with relatively old distros. Please consider upgrading since it is related to a cairo issue that's already fixed ;).
Btw check the
ChangeLog
for more infos or feel free to contact me.
30 May 07:
GNOME Mastermind 0.3 Release!
Finally I'm happy to announce the third release of this little game! Here follows a quick list of major changes:
Drag and drop support: now you can place pegs simply draggin them from the tray to an active cell. Old select and place mode still works too.
Undo and Redo.
Double click on a peg places it to first free cell (single middle click too as before).
Added a first draft of a keyboard mode: 1, 2, 3, ... 8 keys place the correspondent peg to the first free cell.
Added a new fruity theme where pegs are replaced by fruits. Since each fruit has a different shape, it could be used even by color-blind people. Thanks Sean Wilson ;)
Added an accessible tileset where each peg has a different shape so that it can be distinguished by color-blind people.
Some tileset artwork restyling: two new themes, removed old simple.svg and replaced with a new similar but gpl one.
Replaced selection rectangle with a sort of zoom effect.
Minor user interface improvements. Made main window resizable.
Many bugfixes.
New translations:
Arabic (Djihed Afifi), Basque (Mikel Olasagasti), Indonesian (Andika Triwidada), British English (David Lodge), Spanish (David Prieto), Brazilian Portuguese (Leonardo Fontenelle).
Hope I din't forget anything. As always check the
ChangeLog
file for a detailed list of changes.
Go to the
Download
section to try it now or check the updated
Screenshots
to take a look at the game.
21 May 07:
Hey, it's been a while since I posted last news here so lets summarize what happened during this time:
My request to debian wishlist has been accepted and thanks to Bart Martens gnome-mastermind just entered Debian :D!
The mantainer though had to remove simple.svg theme because it was a derivative work from media-record.svg from tango icon theme, hence licensed with cc-by-sa, a license incompatible with debian guidelines.
I've already solved this issue in development version creating a similar one from scratch and releasing it with gpl. Check it from svn if you want or wait few days for the next release ;).
Right after the package entered Debian Unstable it's been also synced with Ubuntu Gutsy so the next ubuntu release will hopefully contain it in its repositories :).
Some days after release:
05 May 07:
GNOME Mastermind
0.2 release
:
Chance to replace already placed pegs.
Persistent Show/Hide Toolbar setting
New tileset from Ulisse Perusin.
Docbook help: press F1 or go to Help → Contents menu.
New Translations:
French strings and manual (Robert-André Mauchin), Italian manual (Edoardo Batini), Polish (Tomasz Dominikowski), Swedish (Daniel Nylander), German (Thilo Pfennig) strings.
Note for artists: changed tileset format to 340x40. Look at included ones as examples.
Various bugfixes. Check ChangeLog file to have a complete list of changes.
20 Apr 07:
Thanks to Federico Boaretti now we have a feisty package ;) Please test it and report me any problem related.
19 Apr 07:
After just one day of project life I've already received Polish translation! And we could soon have some ubuntu package and maybe an icon :D! Thanks to you all!
I've opened a project page at
gna.org
Project homepage will still be this but development has moved to gna svn.
You can checkout latest svn version with:
$ svn co svn://svn.gna.org/svn/gnome-mastermind/trunk gnome-mastermind
From this moment you can submit bugs to gna.org
Bug-tracker
I've also opened a public
mailing list
for support, help requests, feedback, comments, and whatever you want to discuss on. Use it to give me your opinion about the game, ask for feature and suggestions!
Introduction
GNOME Mastermind is a little Mastermind™ game for linux that I've written, mainly for fun, while I was learning some programming with gtk and cairo. At first I was not intentioned to share it, but now I think it has become quite stable so I decided to distribute it. I like it and I hope someone else would like it too.
The goal of this game is to break a hidden color code following the hints that the game gives us. Check the game manual for a better explanation about how the game works and is played.
If you look at the code please don't care too much about style issues and some portion redundancy: it's still an early version so it still needs some love ;)
Feel free to comment out at email address below.
Please, note that site website is still a stub under development.
This game is free and is released under GNU GPL License
Download
Instructions
$ tar -jxvf gnome-mastermind-0.3.tar.bz2
$ ./configure --prefix=/usr
$ make
# make install
To start the game you can go to Applications → Games → Mastermind
Either you can type gnome-mastermind from a command line
or from your desktop manager run dialog (alt+f2 on GNOME Desktop)
Screenshots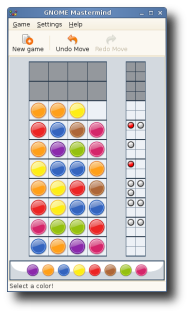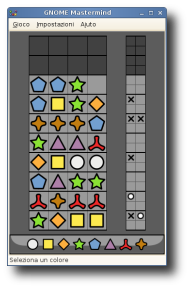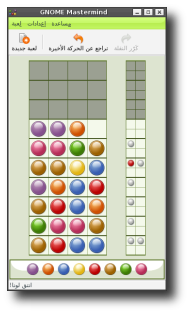 Authors and Contacts
Filippo Argiolas filippo.argiolas@gmail.com
Support, Help, general purpose Mailing List
Bug, Enhancements, etc at Bug Tracker
Copyright ©2007 Filippo Argiolas
Last modified: Fri, 29 May 2009 15:46:40 +0000